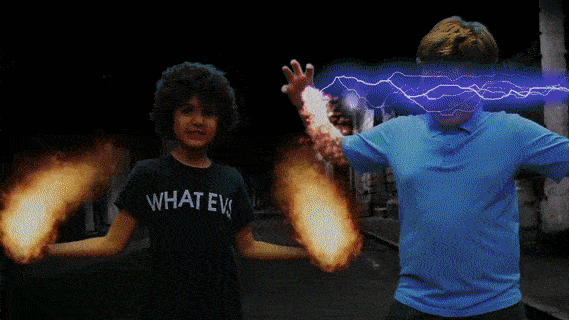 Acting for Stage & Camera
Learn the Essential Elements of Theatre and Film Performance through Fun and Exciting Screen and Stage Projects
Weekly Term Classes for Young People Aged 7-18yrs
​
Guided by industry professionals, young performers will gain the skills needed to get them started on their performance journey, all within a fun and vibrant learning environment. Our classes provide a foundation in confidence, creativity, presence and technique for young people interested in performing on stage or in front of the camera.
​
Since 2013 stage2screen has educated and trained young people in acting for the stage and camera. Some of our students have gone on to further their careers by successfully auditioning and being accepted into prestigious dramatic arts institutions. Many talented students have scored leading roles in local and Sydney productions while studying at stage2screen.
​
stage2screen is so much more than your regular drama school. We are unique in that we incorporate Green Screen technology and CGI (Computer Generated Imagery) within the film and acting for camera unit. The sky's the limit with Green Screen - students can experience the magic of Harry Potter, Star Wars, Super Heroes, present the weather, explore the silent film era, act in their own music video and much more, all within the comfort and safety of the classroom.
Junior and Intermediate students explore acting for stage and theatre essentials and on-camera performance skills including film set language, presenting to camera, eyeline, sound and lighting.
​
Senior students explore more in depth acting methods and techniques. Students undertake scripted scenes from stage plays, current movies and television serials and are guided on how to achieve their best performance on stage and screen. Students learn to develop and refine their stage and screen acting skills which are required for the industry today.
​
At stage2screen we enjoy celebrating the success of every student. The final 4th term of the year culminates in our Student's Showcase, where family and friends are invited to attend and view the student's best film work on the big screen. Students also present a stage play. This is an opportunity for all family and friends to share in the culmination of the work and skills that students have learnt over the course of the year at stage2screen.
All tutors employed by stage2screen are professional actors, performers, film makers and directors currently working in the entertainment industry and all hold the required current New Working with Children Check clearance. Our tutors have written produced and directed successful stage productions in Sydney and have made short films, television pilots and internet promotions throughout Sydney and internationally for both educational and private institutions.
​
stage2screen Batman Green Screen

One of our Erina Heights Junior students channels Adam West as Batman to dish out some justice to the Joker

Wyoming Wizards Duel

Students at Wyoming Junior class works with CGI to show off their Harry Potter Spells.

Playbook at the Oscars

Combined Junior students work together to create a fantastic improvised scene at the end of year Oscars Showcase

Candy Land News Reports

Wyoming Juniors deliver a news report

vlcsnap-2013-08-30-23h29m06s171

Describe your image.

S2S OscarsDEC 2014 124

Describe your image.

vlcsnap-2016-11-23-14h45m40s806

Describe your image.

HunterThompson&NoahEvans

Describe your image.

vlcsnap-2013-12-30-23h12m27s219

Describe your image.

S2S OscarsDEC 2014 191

Describe your image.

Screenshot 2017-05-12 04.07.36

Describe your image.

Sunbeams Green Screen Workshop

stage2screen travels to schools, community and corporate groups to create some magic on green screen.
My son has been attending S2S since it started. He has become confident and outgoing. Richard is a vibrant enthusiastic teacher.
Emily loves going to Drama every week thanks Richard and Trish for making interesting and fun each week.
My son loves his stage2screen class and can't wait for it to start each week. He's 9 and we found other acting/drama classes a little 'young' for his interests - they wanted him to recite nursery rhymes etc which he just wasn't at all interested in. Now he's at stage2screen and he gets to be involved in games and activitites more in line with what he loves - the likes of Harry Potter, Star Wars etc as well as the more traditional aspects of acting. We're so happy stage2screen started a local class!
Stage2Screen doesn't just give the kids practical and theoretical grounding in stage and screen work, it's a lot of fun for them. Richard's passion for acting & filming is evident and infectious. They get to see, learn, do, play, and understand the magic of movies; total immersion. It's the way to go!
My daughter loves stage2screen. She looks forward to it every week. Richard is a very encouraging, fun and creative teacher who really brings out the best in young people. Had a fantastic night at The Oscars, the end of year show, where all his students walk the red carpet.
Please reload